Microwave Egg Fried Rice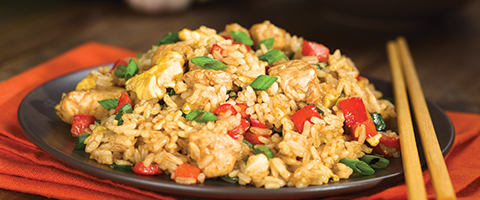 Cooking Time: 14 minutes
Ingredients
2 tbsp Oil
2 tbsp Garlic clove, minced
1 tbsp Chili, finely chopped
1 cup Spring onion white, sliced
4 Eggs, beaten
2 tbsp Soy sauce
1 tbsp Salt
1 cup raw long grain Rice
2 cups Stock/ water
1/4 cup Spring onion greens, chopped
Method
In a large, microwave-safe round bowl, combine the oil, chopped garlic, chilies and spring onion bulb.
Mix well, cover and place in the Morphy Richards Microwave Oven. Cook on P100 for 3 minutes.
Add the eggs, soy and salt and beat together.
Cover with a lid and cook on P100 for another 3 minutes or until firm.
When done, uncover and use a fork to break up the cooked egg. Transfer to a plate, cover and keep aside.
In the same bowl, combine the stock or water and the rice.
Cover and cook on P100 for 10 minutes or until rice is tender but only ⅔ cooked.
There should still be enough liquid in the bowl to stir easily without breaking the rice.
Add the cooked egg and spring onion mixture to the rice and mix well.
Garnish with the spring onion greens and serve hot.
Notes/Tips:
Share:
Let us know your thoughts!
Your email address will not be published. Required fields are important
Subscribe Now
Subscribe to our blog to get new recipes, buying guides and more, directly into your inbox!